Pierre Bellon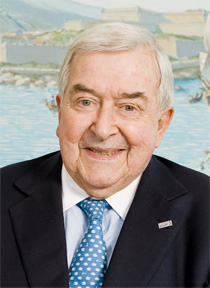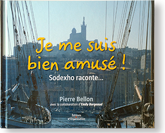 As if that were not enough,
Pierre Bellon helped write and edit the book "I had a lot of fun! Stories from Sodexo ... "(Editions d'Organisations, 2006), which traces the 40-year history of the Group.
Pierre Bellon is the founding CEO of Sodexo, a world leader in quality-of-life solutions.
In 1966, with 100,000 francs, he launched his first "company dining facility" restaurants in Marseille, pioneering a business in which everything had to be created from scratch. Over 42 years, the Group has experienced exceptional growth. Now with a turnover of 20.4 billion euros, Sodexo designs, manages and implements comprehensive service solutions for 33,000 sites worldwide: businesses, schools, universities, clinics, hospitals, retirement homes, living facilities on large work sites on land or at sea, etc.
With operations in 67 countries, the company employs 470,000 people and has become the world leader in most of its markets. The Group's market capitalization is currently about 9.9 billion euros and it is private, controlled by the Bellon family.
Pierre Bellon built his business on a particular philosophy: internal growth; customer retention (proof that customers are being satisfied); job security and opportunities for promotion for personnel; shareholders' requirements must be addressed.
Early on, he established the Group's mission: "to improve the daily quality of life and contribute to economic, social and environmental development of the countries where the Group operates"And its three core values: a dedication to service, teamwork, and progress. Enthralled with the creation and development of companies, Pierre Bellon was active from the beginning of his career in the CJP (Center for Young Employers), which later became the CJD (Center for Young Managers), where he served as National President from 1968 to 1970. In 1981 he became Vice President of the MEDEF (French Enterprise Movement).
Pierre Bellon is recognized as one of the great figures of the service industry, a visionary who was able to identify restaurant services as a growth niche in which he gradually built a global company.
Nurtured by the work of Jean Fourastié, Alfred Sauvy and a handful of economists, researchers and other precursors, he understood early on that the future of employment lay in services, a conviction that he expounded in 1978 in a report to the Economic and Social Council. In 1979, he created the Service Professions Liaison Committee (CLS), now the Association of Service Professions (GPS), within the CNPF. Recently, the latter gave rise to the Union of Services for Individuals. In 1987, he created the Corporate Progress Commission, composed exclusively of active entrepreneurs, whose goal is "to move French companies forward".
That same year, with some other pioneering business leaders, he launched the Association for Progress in Management (APM), based on an idea and a slogan: "companies progress through the progress of their leaders." APM invented a new teaching method, based on the exchange of experiences among heads of companies. Twenty years after its establishment, the association has more than 250 clubs, 4,700 members, 220 club leaders and 350 management experts. Most recently, he was also responsible for the Enterprise School Week, under the dual sponsorship of the National Education Ministry and the MEDEF, the CJD and Youth & Enterprise. In 2008 this national event, which aims to improve the relationship between teachers and business leaders in the field, brought together 160,180 students, 17,620 teachers, 5,340 establishments and 10,730 businesses.
In line with these commitments, in 2011 Pierre Bellon decided to create the precursor to the Pierre Bellon Foundation for Human Development. It has now become an officially recognized non-profit foundation.
Born in Marseille in 1930, Pierre Bellon is now married, has four children and thirteen grandchildren. He loves sports, especially tennis and sailing. He has developed a passion for rugby (which he never actually played) and its principle of "fair play", and enjoys the game's "amateur" spirit – something not always the case in football. He prefers spending time with his family when he has time to relax. He is a graduate of HEC, Commander of the Legion of Honor and the National Order of Merit, Commander of the Order of Rio Branco (Brazil) and a Chevalier du Mérite Agricole